Regular price
€25,50 EUR
192.13 kn
Regular price
(0.0 kn)
Sale price
€25,50 EUR
192.13 kn
Unit price
per
Sale
Sold out
🌸 Introducing the Enchanted Princess Personalized Reusable Water Bottle! 🌸
Are you ready to add a touch of magic to your little one's daily adventures? Look no further, because we've got the perfect companion for your little royalty – the White Reusable Water Bottle with a Pink Personalized Name.
Shipping & Returns

The right of return can be applied within 14 days from the delivery and it is valid only for purchases made in our online store www.beloco.eu.

With your order number handy, contact our Support Team via email. Tell us the reason you wish to return the product and attach some pictures.

Please note that:

If your request meets all these conditions, we would be pleased to send you a return label and you should handle the return parcel to the suggested carrier within 15 days, otherwise we would not be in the position to properly manage the return and the refund. 

When we receive your return we will send you a confirmation email and you can choose between a refund or a voucher redeemable on www.beloco.eu online store.
Care Instructions

Cleaning your BeLoco products is easy. We recommend rinsing them with hot water after each use, especially if used to store a liquid other than water.

You can use simply hot water and mild soap, or a mixture of hot water, vinegar and a teaspoon of baking soda for a more natural alternative; used in combination, vinegar and bicarbonate give an effervescent reaction that facilitates the removal of stains and residues of drinks other than water.

Once washed, leave the bottle to dry upside down and without the lid.

Small spots can appear inside your bottle as a result of continuous use, especially with coffee or black tea, but don't worry: this won't change the safety and durability of your BeLoco.
Share
View full details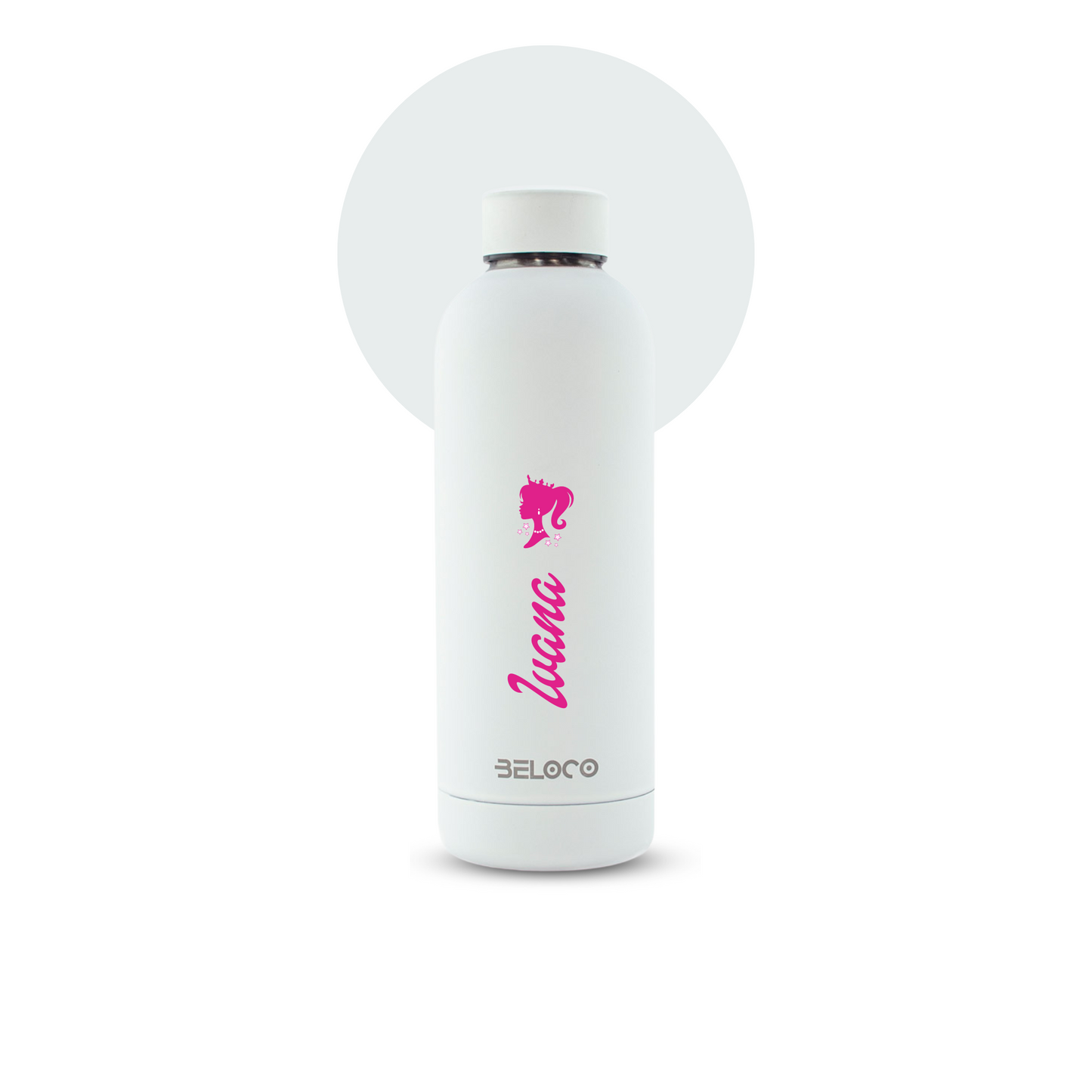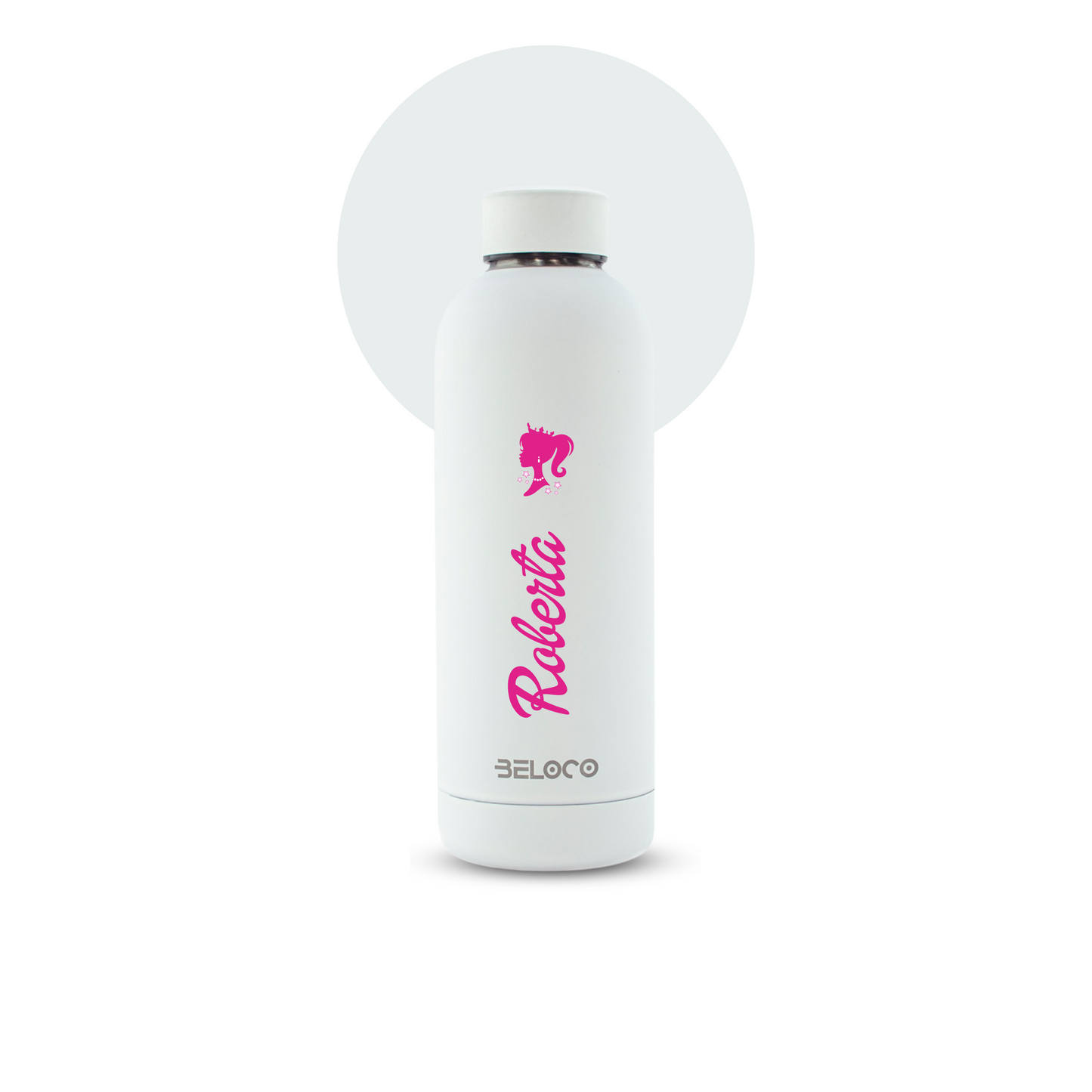 🎀 Designed for Royalty 🎀
Every sip from this enchanting water bottle is a sip in the world of pink dreams and fairy tales. Crafted with love, this bottle is a tribute to all the princesses out there, making hydration an elegant and stylish affair.
🌡️ Keeps the Magic Going

Whether it's a hot summer day or a chilly winter morning, this water bottle has your back. It keeps drinks icy cold for an enchanting 24 hours and toasty warm for amagical 12 hours.

👑 Personalized Elegance

What's more delightful than a water bottle with your princess's name in charming pink? Make her feel truly special by personalizing this bottle with her name.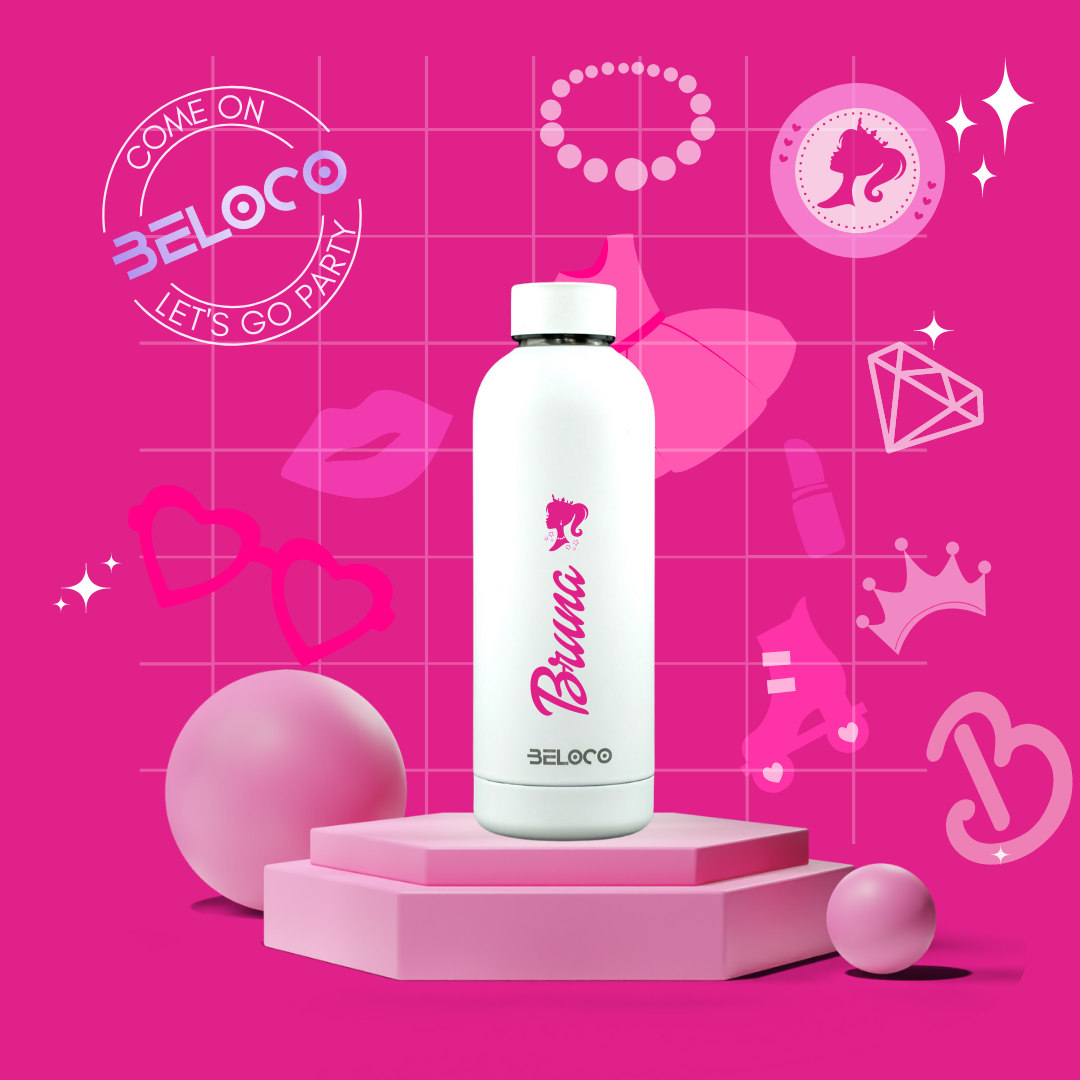 🏰 Premium Quality
The BeLoco bottle is crafted from Premium 18/8 Stainless Steel and coated in tough and durable powder coated paint. It is BPA Free & 100% Leak Proof.
We understand that only the best is fit for your little one. That's why our water bottle is made from high-quality materials that are not only durable but also safe for your child. You can trust that our bottle will stand up to the whims of even the most spirited princesses.
🎉Adventure Awaits
Perfect for all activities, from playful moments in the park to studious days at school and even triumphant victories on sports fields. It's your trusty companion through every adventure. It's spill-proof and easy to handle, ensuring that your princess stays hydrated no matter where her imagination takes her.